Preparing the Next Generation of Nurse Educators
39-credit Online Nurse Educator - Master of Science in Nursing for RNs
IMPORTANT PROGRAM DEVELOPMENT: UConn's Nurse Educator Track has received a very generous donation to support future nurse educators in both the academic and clinical settings. Considering this, the university is offering qualified candidates full tuition starting fall 2024 for the entire academic program. Enrollment is limited and early application is strongly advised. Together, we'll increase the number of exceptionally qualified nurse educators leading nursing education, changing the world.
Many of today's practicing nurses are eager to explore innovative options to advance their careers. UConn's new Nurse Educator online master's degree program prepares baccalaureate-degree-holding RNs for career advancement in the increasingly important roles of nursing education.
This advanced nursing practice specialty area propel the career of nurses who want to develop expertise in clinical education but who do not want to become an advanced practice nurse (APN) serving a specific population.
The best nurse educators retain exceptional leadership qualities, excellent communication skills, and have in-depth, comprehensive knowledge in their fields. Nurse educators design, evaluate, update, and implement new and current nursing education curriculum in health care settings.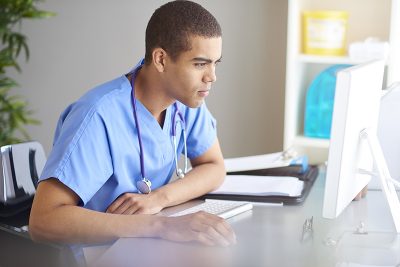 The Nursing Education online MS in Nursing degree program will prepare you to:
Demonstrate the knowledge and skills to educate in the appropriate healthcare setting.




Develop/implement an explicit framework for teaching and/or leading in healthcare organizations.

Become nationally certified by the National League for Nursing (NLN) as a Clinical Nurse Educator (CNE) and earn a graduate certificate in Health Profession Education alongside an MS in Nursing.
Students may earn a Health Professions Education Online Graduate Certificate concurrent with the Nurse Educator degree if they complete required coursework for the certificate.
A minimum of 2,080 hours of clinical experience as a Registered Nurse (RN) providing direct patient care is required prior to application.
Note: For those who may want to pursue a DNP degree in the future, one course (3 credits) in the MS concentration can be applied toward UConn's Doctor of Nursing Practice (DNP) degree.
The Nurse Educator - MS in Nursing online degree program only accepts students for a fall semester start. Please submit materials no later than April 15 to begin the following fall semester. The fall application opens mid-September of each year.
Days Until Application Deadline